I decided to link up on
Rachel's blog
for Menu Monday. I am a faithful reader of her blog, but have never linked up. Those of you that know me in real life already know that I cook most every night. I'm just not always thinking about taking pics of what we had, so I will try to be better about that. Some of the things on the menu last week include:
Since I didn't take a pic of mine, I borrowed this photo from
How Sweet it is
, the blog that I got the recipe from. I really liked this, but mine was way soupier than I think it was supposed to be. I remedied that by taking the chicken out of the cooking liquid once it was done and shredding it into a separate dish. I then just added the amount of sauce needed to make it the right consistency for us. I didn't cook it quite as long as the recipe called for, so if you will be cooking it all day, you may not run into that. The leftovers were really good in a salad, I made a dressing using some of the leftover sauce and added some green onion and cilantro and tossed it all with a big bowl of salad greens. This would also do double duty for you if you wanted to make a BBQ chicken pizza. I planned to do that, but didn't get around to it before the chicken was all gone. I will make extra next time.
I made quiche for dinner one night, I like to make to so I can eat it through the week for breakfast too. I have started using
Kate's recipe
as the base and then I just add whatever veggies I have on hand. This week, it was asparagus, spinach, and mushrooms.
Wednesday nights we host an American Idol watch party and I have a couple of girlfriends come over to eat. This week we had an Asian Chicken Salad, similar to
this one
from Pioneer Woman. We served it with edamame and plenty of vino, (Wednesdays are fun)!
Thursday and Friday we ate out, but Saturday we had a Cinco de Mayo feast over at some of our dear friends' house. They have a gorgeous pool and the weather was perfect for sitting outside. I made these
Sour Cream Enchiladas
to go along with all the other great food...we
always
over eat when we visit these particular friends! I love these enchiladas but they really are pretty hard to do by yourself, you need an extra set of hands. We set up a little assembly line and I get the hubs to help me! It's pretty fun because he really doesn't do much cooking and I enjoy having him in the kitchen with me. We always double, or even triple, this recipe. I figure if you're going to make the mess, might as well make plenty! They reheat really well from the refrigerator, I haven't ever tried to freeze them though.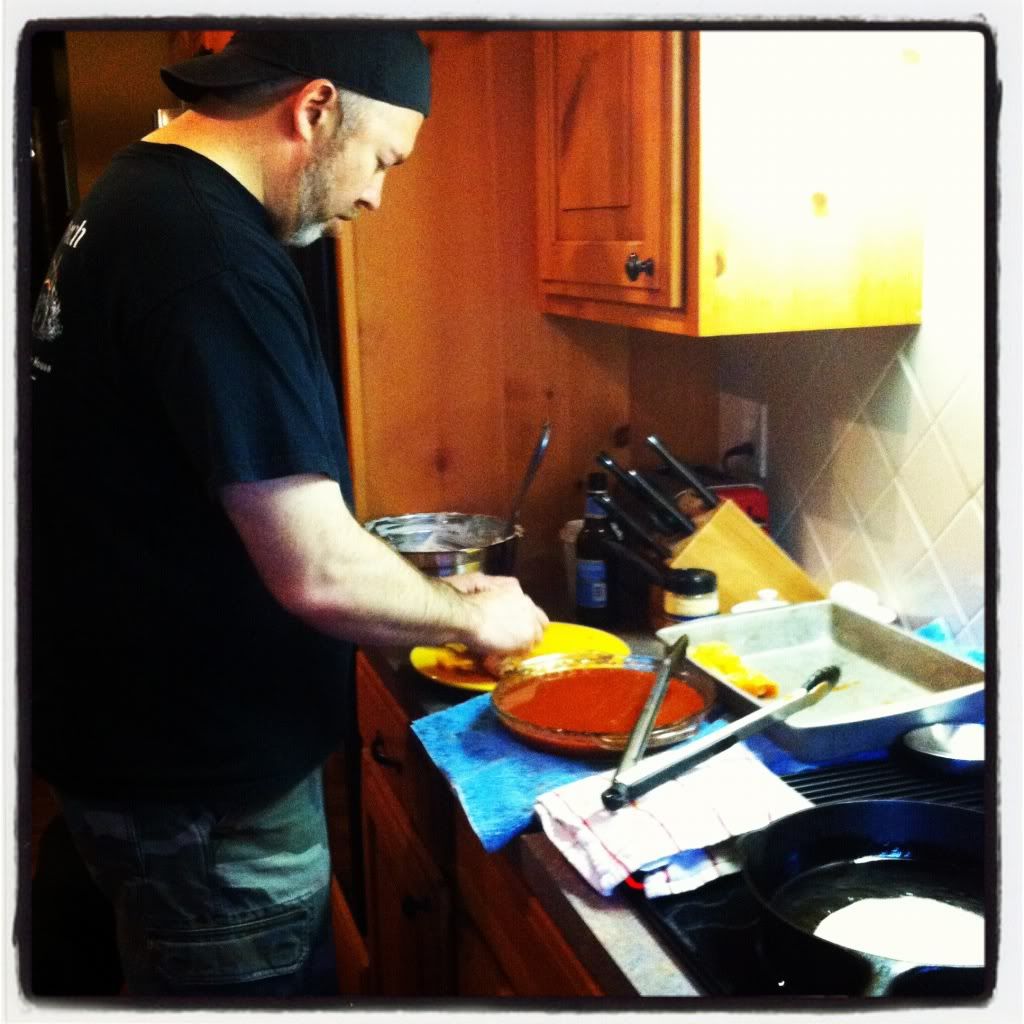 My line cook
Here they are before going into the oven, I didn't get an "after" pic because we took them to over to the party to bake later. I serve these with my home made salsa and fresh guacamole. I also like to sprinkle chopped red onion and cilantro over them before serving, but they are great without that too.
As you can see, I get lots of inspiration from blogs I read, hopefully I can inspire a few of you out there to cook more meals at home!